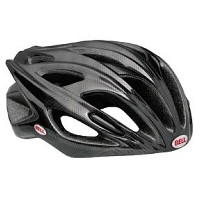 My Christmas present this year was a Bell Alchera bike helmet. For the past couple of years I've riden helmet-less, much to the disapproval of many.
It wasn't because I was arrogant to the fact that I was putting my life at risk not wearing a helmet, I knew I was, I just never felt the need to wear one around the country lanes of where I live. However now I'm getting faster and doing lengthier rides, which take in bigger A roads, I'm noticing that cars are getting closer and closer to me and each time I seem to have a close miss, dispite wearing reflective clothing. So, I've now got a helmet.
It took ages to find the right one. I tried on 30 in Evans Cycles, none of which fitted correctly at all, the Specialised Bike Helmets especially made me look like a mushroom head. I appreciate that the whole point of the helmet is safety first, but surely there must be a helmet which fits better around my head! Then I came across the Bell Alchera, it still sticks out slightly around the sides but a much better fit (looking on the forums Bell seem to be the best if you're looking for a neat fit).
So on Boxing Day off I went for a ride to give it a good roadtest. Now these helmets are designed to give you good ventilation and to keep you cool during the hot summer month's. You actually see pictures of guys wearing hats underneath helmets in the winter editions of Cycling Weekly and I always thought they were being too cool for school. 15 minutes in and I was suffering serious brain freeze. The amount of freezing cool air whizzing around my head was incredible. Air swirlled around everywhere, so now I need to invest in a bike hat to keep my head warm.
So, buy a bike helmet it keeps you safe and it's like sticking your head in a freezer.