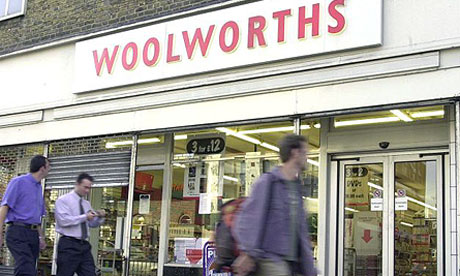 Woolies has gone into administration.
Described as a 'lame duck' by the BBC, Woolies crippled under £300 million worth of debt. The government won't help out either as it felt Woolworths had a poor business model and wasn't a viable business to invest in.
It's a huge shame to loose such a big British name, over 800 stores will disappear in town's across the UK, with over 25,000 job losses. Woolies has been struggling for ages, and some say it would have have still gone under even if the economy was good, although I'm sure the money could be raised today someone would buy it out. One for Theo Paphitis perhaps?
Although I've not been into Woolies for ages it will be sad to see it go. I went to a MFI store in Warrington the other week which was closing down. It was a humbling, disappointing and very sad experience. To see a proud, buzzing, successful store which was once a weekend trip out with Mum, Dad & a baby brother as a youngster to now an empty, desolate store was upsetting.
Drive past now and it is simply locked up, neglected, weeds already growing around it and Woolworths will soon be the same. Except this time it is directly on the high street.